Unleash the power of the cloud with MacDropAny
MacDropAny syncs any folder on your Mac with the cloud, for access from any device, anywhere in the world, for free.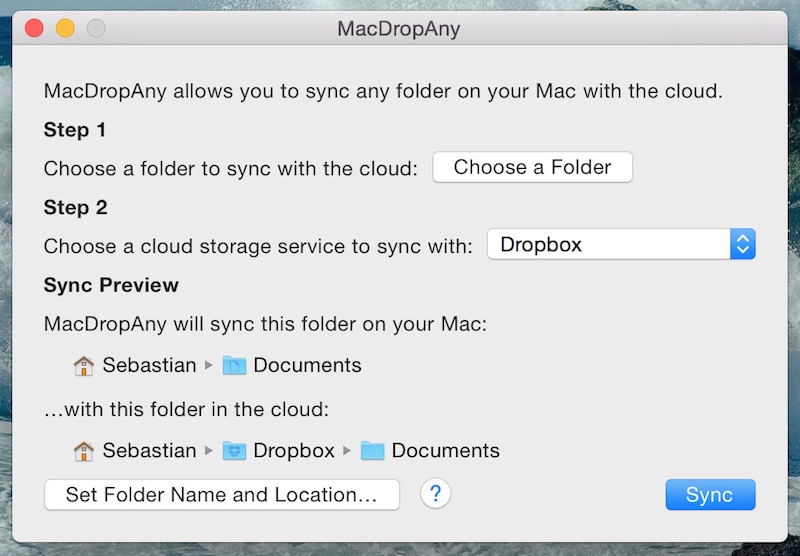 Supported Cloud Storage Services:
Dropbox
iCloud Drive
Copy
MediaFire
Hightail
hubiC
Google Drive
Box
OneDrive
Mega
Creative Cloud
Access your files from anywhere
Most cloud storage services, such as Dropbox and iCloud Drive, only sync the files you put inside a special sync folder. MacDropAny removes this limitation, and lets you sync any folder on your Mac with the cloud, for free.
Unleash the true power of the cloud everywhere in your digital life:
Access any folder on your Mac from anywhere, anytime.
Have a secure, off-site backup of all your important files.
Full cloud features: file sharing, undelete, and revision history.
How MacDropAny Works
MacDropAny creates a special connection, called a symbolic link, between folders on your Mac and the cloud. This means that any folder on your Mac can be synchronised online, and accessible from all your devices. Whenever you add, edit, or delete a file inside a synced folder, the cloud instantly mirrors these changes.
Folders synced with the cloud via MacDropAny experience a convenient duality: they are located both in the cloud and locally on your Mac, which means that you benefit from the full power of the cloud, while still being able to view and edit your files without an Internet connection.
MacDropAny isn't a cloud storage service itself; rather MacDropAny extends the functionality of existing cloud storage services to any folder on your Mac. This means you can use MacDropAny while still continuing to sync your files using the cloud storage service you already know and trust.